New major release: WebAppLink Version 7
WebAppLink Version 7 is a powerful new release with a wide range of new features, brand new user interfaces and performances improvements (see the complete list).
With WebAppLink Version 7, your will get more without any extra charge.

Announcing WebAppLink new major release 7.x
We are pleased to announce the immediate availability of WebAppLink major release 7.x
This powerful new release incorporates a wide range of new features and functionalities, including:
Citrix-like Web Application Portal
New Support of W8 and W8.1 Basic/Core editions as server-side!
New HTML5 client experience design on iPad, iPhone, Android smartphones and tablet, Blackberry, W8 smartphones
New Load Balancing and Failover system
New Up to 20 servers in a load balanced farm
New Webmaster Toolkit for an easy Portal customization
New AdminTool design
New Application Assignation tool
Open Word/Excel/... documents automatically on the user side (avoiding the need to install Office on the server)
New Client Generator
New MS RemoteAPP support
New Seamless client technology to support W8/W2012
New Kernel for better performance and stability
All programs are numerically signed for a better anti-virus acceptance
New Online Documentation
And still all the new features and functionalities of WebAppLink, including:
Integrated Gateway. WebAppLink WEB Gateway can easily be deployed in small, medium and large environments to provide a high-availability, secure gateway to multiple WebAppLink Hosts with Single Sign On (SSO).
Active Directory Support. Allows administrators to easily control access to Windows apps based on user groups.
Web-based User Access. Users access their applications and files from any web browser using Java, HTML5 or Windows client.
SSH Tunneling and port forwarding. Enabling a highly secured Web connection, the HTTP, HTTPS and SSH built-in servers enable to connect from a single port number.
Universal Printer. The Universal Printer has been extended to all kind of web access, including HTML5.
Simplified Installation. Installation has been streamlined using role-based installation with automatic setup.
Mobile Client Support. iOS and Android mobile client access to WebAppLink WebAppLink WEB Gateway is available with the new WebAppLink HTML5 connection client.
We encourage all WebAppLink customers to migrate to our newest WebAppLink version, engineered for improved performance and usability.
WebAppLink is the best alternative to Windows Terminal Server and Citrix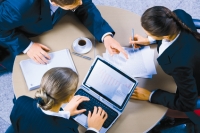 WebAppLink is providings Multiple Sessions, Load Balancing, Universal Printer, Seamless Remote Application, Application Control, Secure RDP and much more without having to implement 2003/2008/2012 TSE (RDS) or Citrix.
WebAppLink is the most cost-effective and easy-to-use alternative to Windows Terminal Services (Remote Desktop Services) or Citrix. WebAppLink seamless client provides fast, efficient access - even over high-latency dial-up lines and Internet connections. Terminal Service Plus is completely transparent to your users. Remote applications look and feel exactly the same as natively-running applications. Therefore, you save time and training costs.
WebAppLink is a fantastic product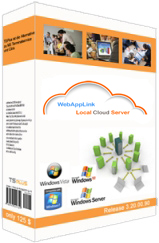 A "Server Technology" for a "Micro" price! WebAppLink enables any of your Windows XP, VISTA, W7, W8, and 2003/2008/2012 or SBS Server to act as a Citrix or a Terminal Server: Multiple concurrent sessions, Seamless application publishing, Universal Printer, Loadbalacing, Failover, Application Control...
WebAppLink instantly delivers an outstanding multi-user access system on XP, VISTA, W7, W8, and 2003/2008/2012 or SBS Server (32 or 64 bits)! If you are looking to add value to your existing equipment without paying expensive licenses to Citrix or Microsoft, WebAppLink, according to our customers, is the very best and the most cost-effective product for your project. Try WebAppLink for free, it's easy: download now!
WebAppLink is a complete Server Based Computing solution on XP or VISTA. And best of all, WebAppLink is a fast, simple and affordable solution that eliminates the complexity of alternatives such as Windows Terminal Services (WTS), Remote Desktop Services (RDS) or Citrix Presentation Server.
If you are looking for the easiest plug-and-play solution to Web-enable or publish your applications, then the logical choice is WebAppLink. By eliminating the complexities of Citrix XenApp (previously called Citrix Presentation Server or MetaFrame) and Microsoft Windows Terminal Server (TSE), WebAppLink provides a fast, simple and affordable solution.
New WebAppLink Editions to exceed your expectations
WebAppLink System Edition on XP, VISTA, W7, W8, 2003/2008/2012 and SBS provides Multiple Sessions, Load Balancing, Universal Printer, Seamless Remote Application, Application Control, security, TS WEB, support of 32 bit color, dual-screen, bi-directional sound, USB device, a much more attractive user Remote Desktop (RDS). The AdminTool is a WebAppLink masterpiece that simplifies the setup of the server. And no more need of 2003/2008 or Citrix! WebAppLink 2010 is the ultimate solution for any Windows system.
WebAppLink Printer Edition Include the Universal Printer excellent functionality and WebAppLink system.
WebAppLink Web Access Edition is a complete package to web-enable your existing applications. Java-based, it enables you to start remote sessions or RemoteApp with any browser (IE, Netscape, Chrome, Firefox, Safari...). Enjoy the easiest remote access anyplace you have an Internet connection and a standard browser. Simple to use, WebAppLink Web Access is a best product to connect from Internet.
WebAppLink SecureWeb Edition is a unique solution providing secured access. It is the most secured HTTPS web access technology integrating tunneling, port forwarding and user-access control. Installed within 3 minutes, it delivers state-of-the-art capabilities to access your applications from anywhere without having to spend weeks of complex work or to invest in expensive VPN equipments. Just install it as an add-on of your WebAppLink installation and start to connect from anywhere.
WebAppLink Mobile Edition is adding the HTML5 client to WebAppLink SecurWeb Edition
WebAppLink Corporate Edition is providing the full range of WebAppLink technologies, as well as a Gateway Portal to access multiple WebAppLink systems and an unique load balanging system for any incoming Web Access on the Gateway Portal.
WebAppLink On-line demo
Our WebAppLink demo server is in the Cloud and we have prepared several examples of WebAppLink amazing capabilities over Internet. Including TS WEB and Universal Printer options, it will immediately show you the expansive and powerful possibilities of WebAppLink. Enjoy :)
Access to our WebAppLink on-line demo page